Amelie Scott Designs creates innovative quilting and embroidery projects. Founded on the idea of providing beautiful projects with simple to understand instructions, this family business has been bringing you projects you can enjoy and customer service that you can depend on. And, we're kinda funny too…
Headed by trained educator, BERNINA ambassador, and quilting expert Christine Conner, and the "geeky guy" Mark Conner, the company became well known several years ago for our book, Edge-to-Edge Quilting on Your Embroidery Machine, which helps quilters get professional quilting results using their home embroidery machine. From there, the company grew, publishing a range of new products, and 3 more books, including our latest, Edge-to-Edge PRO!
While we are passionate about our projects, we are equally passionate about our customers. We love hearing from you and seeing pictures of your project. We invite you to please check us out on Facebook and Youtube! Drop a like or a comment saying "Hi!"
---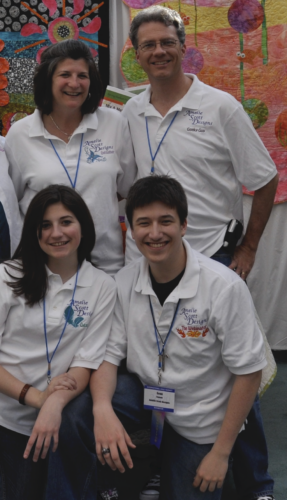 Amelie Scott Designs is a small, family business, based in Dublin, Ohio, in the United States. This is us, at our first International Quilt Market in Pittsburgh, not long after we started the business in 2008. We've grown a bit since then, but, we've known everyone for so long, they're like family.
Of course, as a small business, we all "wear many hats," but here's an introduction to the team and our primary roles.
---
Christine Conner is the Managing Partner and Creative Force behind Amélie Scott Designs. To date, she has published over 80 products and 4 books. Christine's designs have been been featured in Designs in Machine Embroidery, Easy Quilt Magazine, the Pick up a 6 Pack book, and For the Love of Sewing from Fons & Porter.
Mark is our geeky guy, Operations Manager, and Christine's traveling companion for events.
---
When we started, Sean helped with bookkeeping, Katie was our videographer, and both kids helped manage the web site and inventory. Today, Sean and Katie are now graduates of the Ohio State University, and are pursuing careers in accounting and marketing, respectively. They still help out with logistics and events.
Jonathan, Katie's husband, is the newest member of the family. After serving in the Army, Jonathan was our Logistics Manager while working on his college degree. Now a graduate of the Ohio State University, Jonathan is also pursuing his own career, and helps us when needed.
---
Beth, a friend and co-worker for 10 years now, is our Lead Educator, and first line Customer Support person. She's a highly experienced quilter and seamstress, and a very good teacher. We're thrilled to have her with us.
---
Jenny is an art registrar in her "day job," but she has been digitizing Edge-to-Edge quilting designs with us for several years now. We're fortunate and happy to have Jenny as part of the team.